When your boss tells you to go buy a fog machine, you don't question it.
Truzone is an attachment to standard wireless crane control remotes that senses the location of the operator, and defines whether or not it should to allow the crane to move.  We use a customized infra-red vision system to monitor the location the remote, along with a green laser to serve as a visual aid to the operator to indicate the boundary of our system.  If the location of our sensor is within the predefined boundaries, then the crane is unable to move.  The LEDs mounted on the wireless remote flash at a specific frequency to differentiate between sources of infrared light.  While powered on, these lights communicate through an IR camera to a PLC.  Another feature we have added to the system is a motion sensor on the remote which sends the remote into "sleep mode" if it is inactive for a long period of time. The remote wakes up automatically when the system senses movement.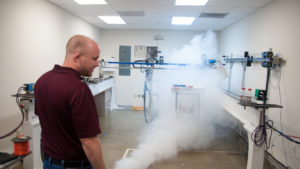 ---
We tasked a few of our engineers with testing if in a factory that produces thick smoke, our sensors could still pick up the infra-red signal.  We decided to test this by using a fog machine to simulate the thick smoke in one of these factories.  After a short search online we ordered one and started to set it up for a quick test to see exactly how much smoke this machine would produce.  Almost immediately the entire crane lab was filled to the top with smoke!  One of our service technicians, David Allen, came into the lab to see what was going on with all of the smoke, because apparently the smoke was getting sucked into the air-conditioning system and distributed throughout the office!  We sent out a warning to everyone so that nobody pulled the fire alarm.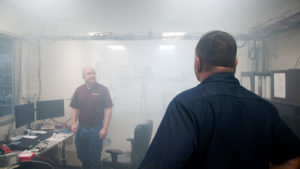 ---