Since the beginning in 1987, Trutegra's team has been creating cost-effective, flexible, efficient solutions from simple panel design and assembly to complex turnkey systems for a wide variety of industries and applications. As a full-service integrator with an in-house UL-certified panel shop and complete CAD capabilities, they are proficient in all major control platforms, PLC, HMI/SCADA systems, software languages, communication networks, drive systems, and industrial implementation. All electrical and instrumentation packages are designed for safety, quality, functionality, maintainability and constructability.
Trutegra is a Rockwell Authorized Systems Integrator AND a Siemens Solution Partner.
With many years of experience and a résumé of successful applications, Trutegra ensures our clients receive quality, flexible solutions, reduced start-up time, continuity between projects and shortened design time yielding the lowest cost of ownership.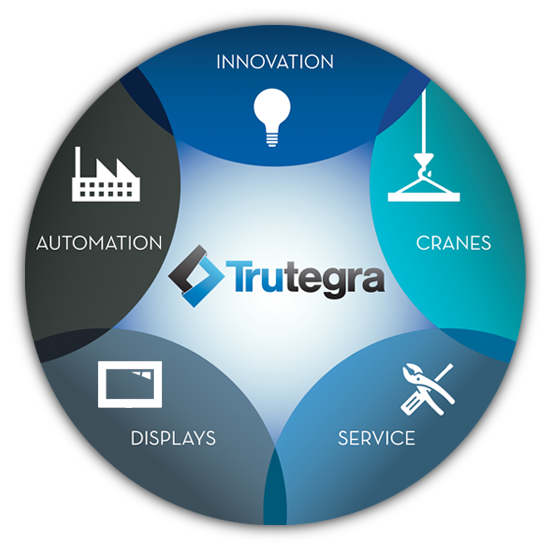 Services Offered:
 

Full-Service Systems Integration

 

Premier

 

Crane Services and Solutions

 

– including

 

Skew Control, Collision Avoidance,

 

Obstacle Avoidance, and

 

No-Sway

 

Automated Storage and Retrieval Systems including

 

ABICS™ and SIBICS™

 

– Our Allen-Bradley or Siemens-based PLC positioning solutions

 

24/7 Support on Most Types of Controls & Drive Systems

 

Electrical and Instrumentation/Control (E&IC)

 

Full Project Implementation Services

 

Camera and Vision Systems

 

Industrial Network Design and Installation, including Fiber Optic Systems

 

Machine Retrofits & Legacy Product Upgrades

 

Bulk Material Handling
"I am writing you today to acknowledge that we have experienced great customer service from Matthew Megremis! On the last visit and near the end of a long Plater day, I had taken Matthew over to our large fully automated press room just to show him some of our other plant automation. It just so happens, that we had device net module fail and I had a real showstopper on my hands. This particular module is vital to our safety and communication layers of the press and all robot systems. As it turned out, we were un-armed in the software side of things and for reasons before my years, had no configuration to download. With Matthew's help, some Trutegra internal team support and some Rockwell tech support combined, we were able to recover our press line. On a professional basis, it's been my pleasure to work with Matthew who is very knowledgeable for his years and systematic in his approach. These two key attributes combined enable him to be very proficient in tackling & resolving problems. On a personal basis, I have been working closely with Matthew side by side for long hours. It's been my pleasure to spend time and interact person to person with Matthew. I have come to know that he has the right temperament, and a great balance of integrity, honesty and patience all rolled in. Huge Thanks goes out to Matthew for his extended service and contribution to helping save our day! Matthew is welcome in our plant and also at my home at any time."
-Automation Tech at a major Automotive System