Bridge Crane Positioning and Control
Trutegra Bridge Crane
Built to model a 5-axis stacker crane.
The Trutegra bridge crane was modeled after the 5-axis stacker crane, initially installed at a major aluminum processor in Oswego, New York, and later used to model a similar crane which was commissioned in a large nickel mining company in Brazil.
Much like the crane lab, the bridge crane was designed to aid in development. Trutegra uses this to assist in full sized path planning, coordinated move trajectories, and complex move sequences and to further develop and test the interface between the crane system and the Level 2 Pick and Place scheduling system.
Lifting and Lowering Loads
Lifting and lowering loads require special considerations. Safe, reliable and smooth control of the hoist is critical to protect personnel, equipment and products. Trutegra engineers understand the necessary related technologies: Torque Proving, Brake Proving, and Float Control.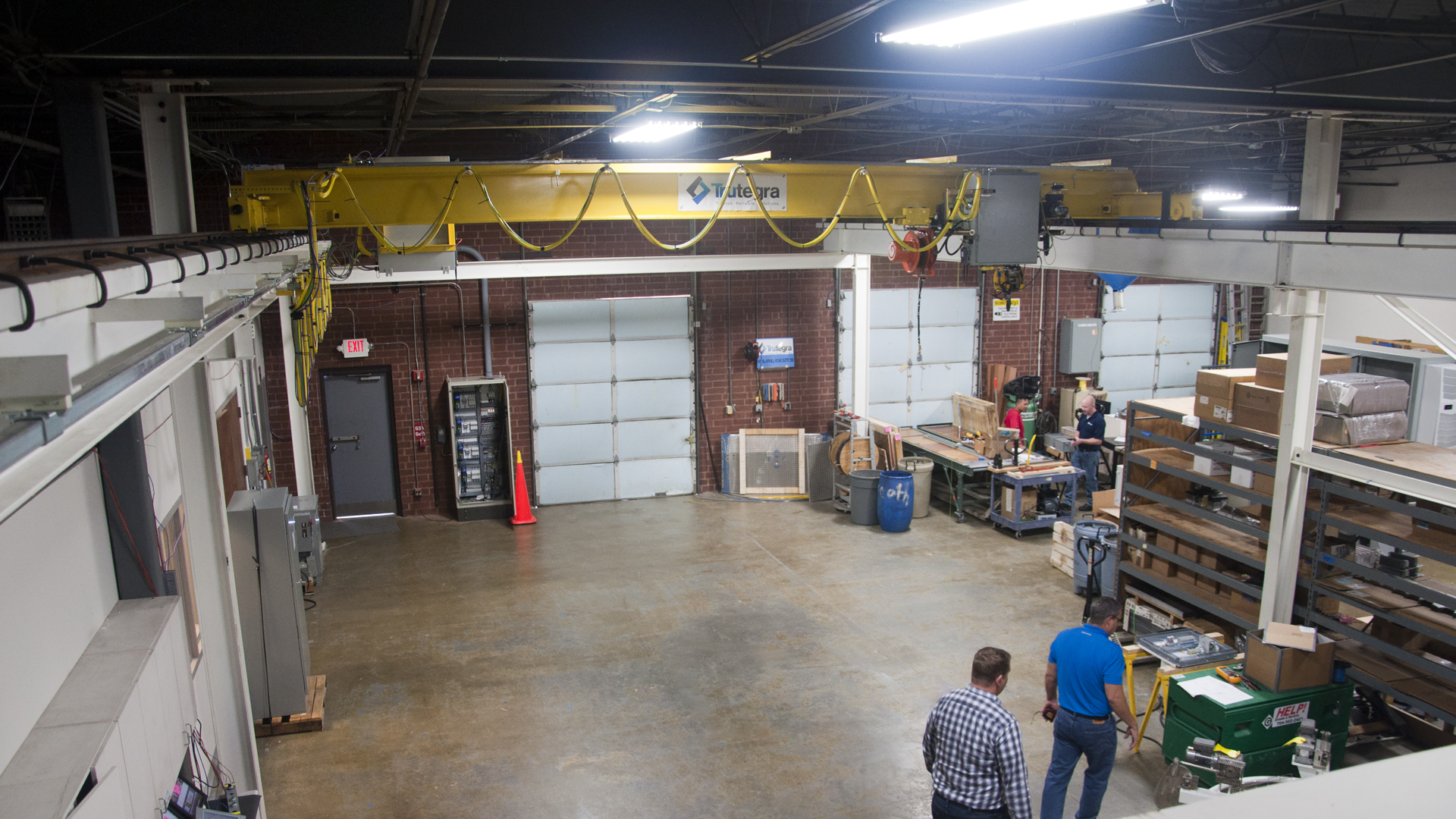 Coil Handling
Trutegra has extensive experience in this industry. One example of this is a project where outdated ICS-5000 units on coil handling cranes were replaced with Siemens PLCs and SICK lasers. In this same upgrade, their leaky coax shore to crane communications were converted to Siemens Scalance N-Band WiFi using directional and omni-directional antennas. The 4 cranes each have a 50-ton capacity and travel on a single 600-meter runway, with a bridge which travels at 2m/s and a trolley at 1.5m/s. These cranes are fully automatic, receiving pick and place commands from a Windows server located onshore through an OPC Ethernet connection. Trucks and trains are used to transport the coils to and from the site. The shipping and receiving bay is parallel to the automated crane bay and 12 transfer cars shuttle the coils from one bay to the other, while 3 radio-controlled manual cranes load and unload coils between the trucks, trains, and the transfer cars.
At this same site, Trutegra participated in the construction of a new building, similar to the line mentioned above, with one continuous annealing mill where Trutegra provided the controls, wireless, and wired networks for two shipping cranes, three automated cranes, and six transfer cars similar to the continuous galvanizing line that was upgraded. In this building, full automation design, build, and startup was provided while interfacing with the mill for coordination of the mill cars interacting with the automated cranes.