Trutime
An Intelligent and Dynamic Plating Line Control System
Trutime is a dynamic solution designed to replace standard fixed timeways on complex plating lines.
At Trutegra, plating lines take up about half of our crane related work. With experience from Detroit to Thailand, we understand the many unique and important requirements of these systems including scheduling software, precise positioning, and drive selection and tuning. Since the beginning of the company, Plating and Pickling lines have been among our core competencies. As a way to increase efficiency, our engineers created Trutime, a dynamic scheduling software for controlling cranes in a plating line environment.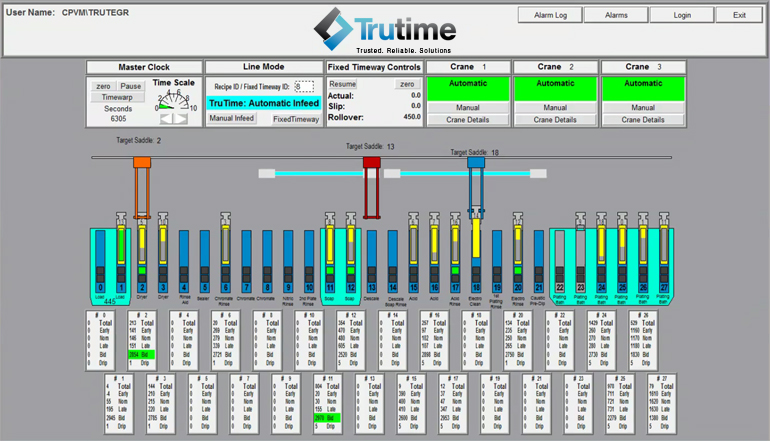 How it works
Trutime manages the flow of product through any wet-process line.  Examples are Plating, Anodizing, Pickling, Cleaning, even Cooking! All scheduling and related process control is performed using a standard PLC.  Operator screens are provided using standard HMI software such as FactoryTalk View, Ignition, or WinCC.  Data for process control and part traceability is collected by the PLC, and stored in SQL Server for detailed traceability and quality reports. Trutime offers three timing models that are applied where appropriate based on the application.  Trutime offers a Fully-Scheduled Dynamic Timeway solution, a Fixed-Timeway solution and a highly flexible "Bidding" System for processes in which the process times may change while the part is being processed. An example is "Plating-to-Weight".  Trutime uses Trutegra's proprietary "Trumotion" solution for fast and precise crane positioning and Trutegra's "No-Sway" technology eliminates motion-induced load swing. The result is superior crane performance, optimized productivity and complete part traceability.  
Load Reports
The Trutime Historian provides rich and detailed reports for 100%  traceability on loads, and history trends for all important process variables. Trutime preconfigured reports allow the customer to search for a specific load, and "drill down" to look at detailed time in tank data, and with a single click, view the process trends for the exact time the load was in a specific tank. Production reports are standard, and available by shift, by day, week, and month. The Trutime Historian is "Open" providing the customer a simple means to build custom reports as needed, using SQL Reporting services, or other standard SQL reporting tools.
Slip Recovery
If our system ever detects the timeway is slipping, it is capable of recovering that lost time. The system analyzes each crane's activity and if a slip is detected it checks for an opportunity to recover that slip. The system will look across the schedules and find locations where all load soak times can be reduced in such a way as not to violate their minimum allowed times. The entire schedule will be modified to recover the slip within one scan of the PLC.
To learn more, watch this more in-depth video here